About Stonewall Cable, Inc.
Who We Are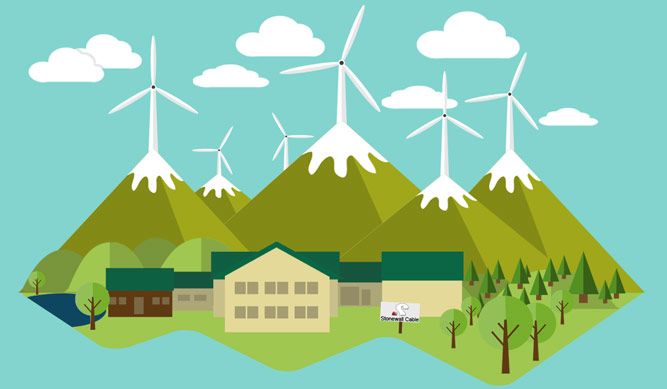 We are a family business. Although a lot has changed since our humble beginnings assembling cables in the living room of our country home, our commitment to our core beliefs and family values remains a cornerstone of our business philosophy.
We believe we have the power to change our world and that enthusiasm and hard work can overcome all obstacles. Through them, we can create opportunity, elevate our communities, and change our lives.
We believe in American ingenuity and that the finest quality products are still manufactured in the US, by American craftsmen and we believe the secret to our success is each other. We believe in hiring good people, and trusting them to do good work. We believe the best ideas can come from all levels. We rely on each other's insight, expertise, and commitment to continual improvement to keep us moving forward. We believe that together we can achieve more than any of us can alone.
We believe in treating coworkers, suppliers, and customers with honesty, dignity, and respect. Stonewall is a family friendly environment, and an environment that makes us all feel like family. We believe in playing as hard as we work, and in maintaining a healthy work/life balance.

Above all, we believe that to be successful, we all must succeed together.
Learn More
Community Involvement
Stonewall Cable takes great pride in community involvement including local food drives, charitable donations, and toy drives. We strive to give back to our community and encourage employees to participate in events geared towards improving the local community and the world that we live in.
Each year, Stonewall's internal collection for Toys for Tots generates more and more donations and to date, Stonewall has donated hundreds of new toys to local children. Additionally, we continue to support our employee's children with scouts and school fund raisers.
Stonewall is currently a top 3% contributor to IBM's World Community Grid which helps provide resources to researching AIDS, Cancer, Muscular Dystrophy, Ebola, Tuberculosis, and Schistosoma.
Apart from corporate donations and volunteering efforts, Stonewall is comprised of caring, and generous team members that take care of one another in times of need.
Environmental stewardship is everyone's responsibility, and Stonewall is committed to the protection and preservation of our home's natural beauty!